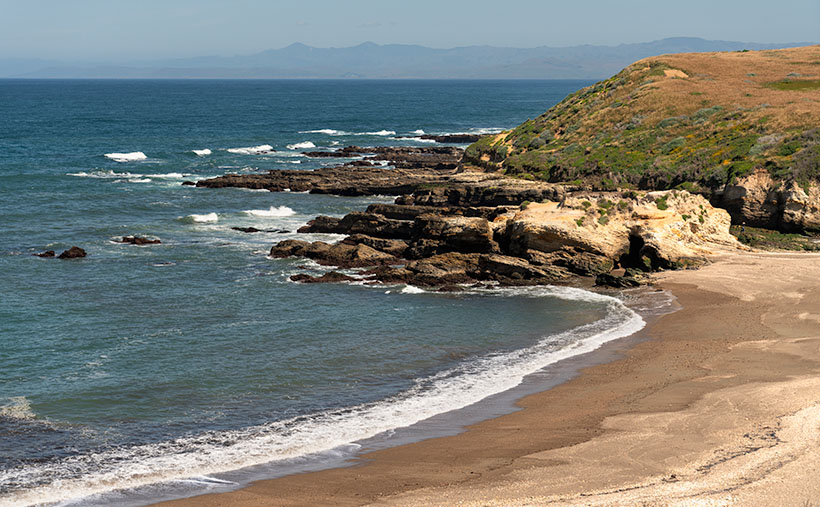 I want to provide some relief from the daytime temperatures clawing past the century mark this week. Let me transport you to a secluded beach, where cool sea breezes caress your skin and the rhythmic sound of waves lapping against golden sand will lull your senses. In this week's photo, we find ourselves just a stone's throw away from our previous location, Montaña de Oro State Park, south of Morro Bay, where a picturesque cove straight out of the movies awaits your exploration.
This lovely piece of real estate is Spooner's Cove, and I know how your mind works. You're thinking, "It got that name because horny lovers come here to be alone and watch the offshore submarine races." Well, you're wrong. This gem, nestled along the coastline, derives its name from Captain Spooner, an early settler in the region. While historical records and accounts don't offer many details, the Cove's designation pays homage to Captain Spooner's presence or influence in this coastal region.
Spooner's Cove is an ideal spot for nature lovers and outdoor enthusiasts. The surrounding area offers various hiking trails, allowing visitors to explore the coastal bluffs and enjoy panoramic vistas of the Pacific Ocean. It is a paradise for photographers, with its breathtaking coastal scenery and opportunities to capture the interplay of light, water, and land. Whether you're seeking solitude, a romantic outing, or a peaceful day by the beach, Spooner's Cove offers a serene and captivating experience that showcases the beauty of California's coastline.
In this photo titled Coastal Serenity, we are presented with a secluded beach gently kissed by the receding tide. As your gaze extends beyond the sandy shore, the town of Morro Bay discreetly hides behind the bluff, concealing its iconic rock that typically graces the horizon. Across the hazy backdrop, the majestic Santa Lucia Range emerges—the coastal mountains that stretch from Morro Bay to Carmel. Serenely tracing the base of these mountains lies the Pacific Coast Highway, a dream route for sports car enthusiasts seeking the thrill of a scenic afternoon drive.
I regret that Queen Anne and I didn't have more time at the Cove. It would have been nice to bring a food basket and a bottle of wine for a romantic picnic on the beach. Who knows, that secluded moment may have resurrected our libidos, and we'd be carried away—perhaps channeling the legendary scene enacted by Burt Lancaster and Deborah Kerr in the 1953 film From Here to Eternity (YouTube clip: https://www.youtube.com/watch?v=Uzu_LezGQYQ ). But then, for the rest of the trip, I'd have had to hear her griping about all that sand in her bloomers—so, maybe not.
You have a couple of options to view a larger version of Coastal Serenity. Visit its dedicated webpage by clicking this link: (Webpage link: https://www.jimwitkowski.com/newWork/coastalSerenity.html). For a more detailed image examination, head to my posting on Fine Art America: (FAA link: https://fineartamerica.com/featured/coastal-serenity-jim-witkowski.html ). On the Fine Art America page, hover over the image to reveal a green square; clicking inside the square will grant you a one-to-one preview, allowing you to explore the intricate details of the photograph—an indulgence we photographers often call "pixel-peeping."
We are delighted you joined us on this journey to Spooner's Cove and hope you find solace in its beauty and tranquility. Stay tuned for next week's installment as we draw our June project on San Luis Obispo County to a close. Keep your camera ready; the next breathtaking moment awaits your lens.
Till next time
jw
Techniques: Creating Depth with Atmospherics: Suggesting Distance in Your Photographs
Have you ever come across a photograph of mountains where the details appear to fade into the distance? Despite the lack of intricate features, the image still conveys a remarkable depth. This optical illusion is achieved through a technique known as atmospherics. The front mountains are rendered darker by utilizing varying tones and colors, while each subsequent layer of mountains behind gradually becomes lighter. This interplay of light and shadow creates a visual depth that immerses viewers in the expansive landscape.
Atmospherics, such as haze, fog, or mist, can be powerful tools in photography, enhancing the depth and suggesting distance within your images. This technique finds its roots in the works of impressionist painters, who often employed it to create a sense of three-dimensionality.
To maximize atmospherics, focus on weather conditions that offer the desired effects, such as misty mornings or hazy afternoons. These conditions can add a subtle veil to your photographs, softening distant elements and creating a gradual transition from foreground to background. The haze layers can suggest depth, guiding the viewer's eye through the scene and immersing them in its captivating atmosphere.
When composing your image, consider how the atmosphere interacts with the elements in your frame. The distant mountains or shoreline can appear more subdued due to the atmospheric effects, creating a sense of distance and vastness. Leading lines or prominent foreground elements can further enhance the depth perception, drawing the viewer into the image and inviting exploration.
Experiment with different compositions and perspectives to emphasize the effects of atmospherics. Capture scenes where elements gradually fade into the distance, highlighting the layers of mist or haze. By balancing the interplay of light, shadow, and atmospheric conditions, you can create evocative photographs that transport viewers into a world of serene beauty.