Christmas, along with the rest of the solstice holidays, is almost over. I hope that Santa brought you something better than the lump of coal I got. Queen Anne is on the couch in her bathrobe and tiara with a box of Kleenex. She'll be useless until Amazon Prime stops showing Christmas movies. Since we won't be back before then, we'd like to wish you the best New Year in 2022. Things have got to turn around eventually, so let's give it a go one more time.
Today, I will finish up the year, and our visit to Snow Canyon State Park by talking about the other rock found there—basalt from recent lava flows. If wind, water, and ice sculpt sandstone, the cooled magma is geology's Etch-a-Sketch reset button. The black rock covers the softer sandstone and forces water to change course. The runoff carves different canyons, like in the park.
As you explore the park's north side, you'll see basalt-covered cliffs. They used to be the canyon floor, but 27,000 years ago, the lava forced the drainage west and carved a new floor—now a couple of hundred feet lower. Snow Canyon has a couple of trails that wander through the jagged black rocks; the Lava Tube and the Cinder Cone trails. The latter is interesting because you can hike to the cone's rim and look into the extinct caldera. However, the track is uphill, and on the east side of State Route 18, so we skipped it.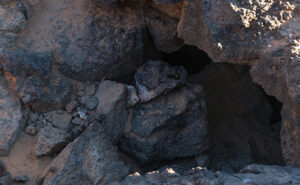 The Lava Tube Trail is shorter,  level, and leads to two lava tubes—which are places where the hardened surface fractures releasing the still molten magma inside to flow away. The remaining caves are sometimes big enough that you can crawl into and see where the bats and spiders live—I'll pass. The above photo is the smaller tube, and visitors— braver than I—crawl into it.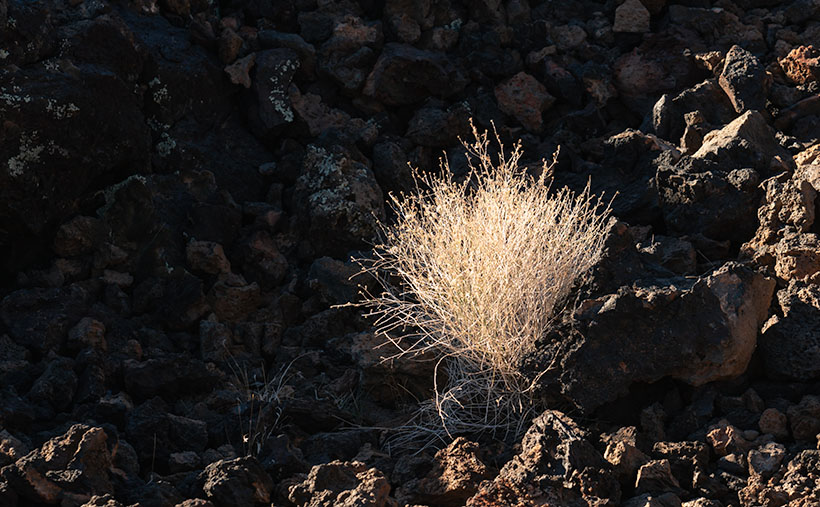 I find basalt a challenging subject to photograph. It's like taking a picture of a black cat in a coal mine. To get any detail, you need to over-expose, which washes out the rich depth. Fortunately, and is the case with this week's picture that I call Lava Grass, there's enough green lichen growing on the rock to prevent the shadows from completely blocking up.
I feel lucky to have spotted the tuft of dried grass surviving in the barren rock. I concentrated hard on staying upright as I hiked the trail in the early morning. The jagged basalt is not skin-friendly and will likely draw blood if you fall on it. And—silly me—I left my bicycle helmet at home.
You can see a larger version of Lava Grass on its Web Page by clicking here. Next week we start a new year, with a new project in a new location. Be sure to come back and see where the road takes us.
Until next time — jw