Although I'm sure that chasing each other around dunes in Mad Max-style is fantastic fun, being an artist and naturalist, I prefer my sand without tire tracks. If only there were an area of the Algodones Dunes like that. Fortunately for me—and you, if you feel the same—there is. It's across the street in the North Algodones Dunes Wilderness Area. This set-aside area starts at the highway and continues north for another 15 miles to the Salton Sea. The only tracks you'll find are those of the critters calling this home.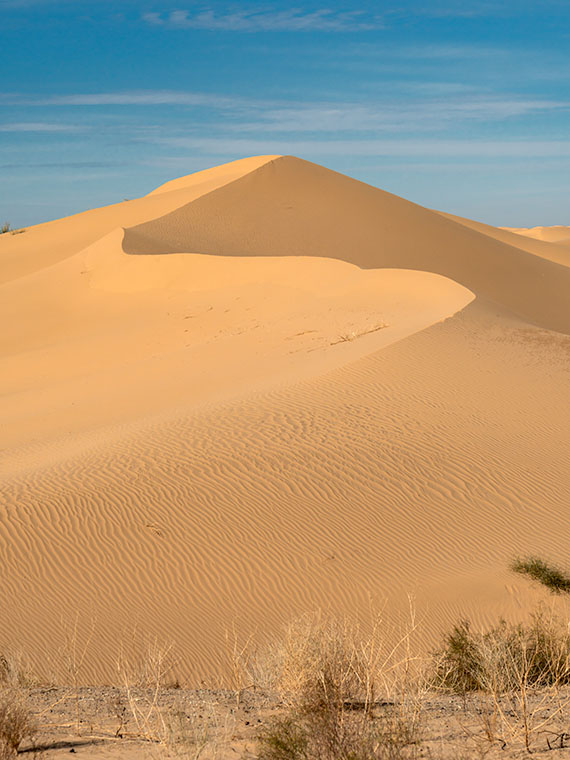 For four weeks, we've been walking with sand-filled shoes, and you're asking, "Why is all of this here? Aren't sandy beaches associated with large bodies of water?" Well, you're right—here's your gold star.
Here's an interesting fact about Imperial Valley, much of Coachella Valley, and the Salton Sea—they're below sea level. When you drive to San Diego on Interstate 8 and pass the Calexico exit—on the south side, there's a large water tank rising from the lettuce fields with a painted mark indicating sea level. The grade runs downhill from there north to the Salton Sea. This entire basin was once underwater.
"So, was the Salton Sea much larger then?" No, grasshopper. California's largest lake is not a 'natural wonder.' It's an engineering blunder. The lake is the result of underestimating the Colorado River's floods, which resulted in irrigation canals breaching their dykes, diverting the river for two years (1905-1907), and sinking the small community of Salton under 52 feet of water. The Sea suffers from decades of farm runoff laced with high fertilizer and salts that killed everything living in it. It's now a toxic cesspool best viewed from miles away.
What actually happened was that the entire Salton Basin was part of the Sea of Cortez. Over time, the Colorado River Delta dumped enough sediment to bridge the gap between the mainland and a mountain chain off the western shore (today called Baja California). Like how the Mississippi formed Lake Pontchartrain in Louisiana. The historic landlocked body of water is named Lake Cahuilla (don't confuse it with the Cholula hot sauce, as I did).
After the last Ice Age, Lake Cahuilla (ka-we-a) began to dry because there was not enough runoff to keep it filled. It finally went dry sometime after 1580. We know the lake existed then because the Spanish sailed ships past the delta into the lake. Today researchers have evidence of old shorelines and native archeological sites around them, providing evidence that people lived in the area for centuries. On the lake's eastern shore was the Algodones Dunes. Geologists believe that the prevailing northeasterly winds carry Salton Basin sand aloft then dumps it at the foot of California's Chocolate Mountain Range. Aw geez, now that Queen Anne has read this, she wants to go there because she thinks it's where Willy Wonka lives.
This week's photo shows a pristine dune I took from the roadside. The bad news is that you can't stop here for at least two miles on either side of the fee area described in previous posts. So, to get this shot, I could've parked far away and hiked back (uphill in both directions) or paid the $35.00 fee. I'm lucky and glad that the Rangers took a day off.
You can see a larger version of Wilderness Dune on its Web Page by clicking here. Next week we'll have the final Algodones Dunes story, so come back then.
Until next time — jw