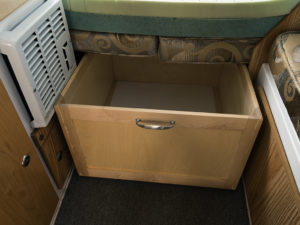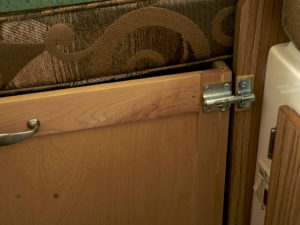 In addition to the regular cleaning, flushing and stocking, to get The Ritz ready for this trip we had to make a couple of inside modifications. Since we permanently configure the rear seating area as our bed, there was a large unused space under the table, so I made a clothing drawer. Storage space in a small RV is premium.
Last year, I installed the drawer on long ball bearing rails so it would easily open and we could get to the back compartment used as a hamper. I expected the rail's stops would be sufficient to lock it in place while the Casita was being towed. I was wrong.
The rocking, starting and stopping of the trailer is enough to open and close the drawer and because its tolerances are so tight, it ripped off several door knobs of the side cabinets slid open and slammed shut.
This week, I picked up a small gate latch and installed it so that the drawer can be locked to a bulkhead when closed. It's small enough and in an out of the way location, that I don't think it will become a nuisance on its own.
The second modification came about because of an 'Ah Ha' moment. Since we'll be traveling through the land of the midnight sun, we will have trouble sleeping with only the sheer curtains covering the windows. Anne channeled Betsy Ross and fabricated a set of black-out curtains to clip on and provide dark sleeping quarters.
The next steps to get The Ritz ready are packing the wheel bearings, checking the brakes, disinfecting the water tanks, then fill it with food and clothes. I also need to find a good local car wash. She may as well start the trip all clean and shiny.
jw