The Vulture Mountains are a twenty-nine-mile long collection of volcanic hills south of Wickenburg. The Hassayampa River runs along the range's eastern boundary and the mountains taper off to the west. From our Congress home, two peaks rise out of the low mounds on our southern horizon: Vulture Peak's rounded knob is to the left and the sloping top of Black Butte is on the right. Reminding me of a doorstop or a fallen cake, Black Butte is the subject of this week's photo.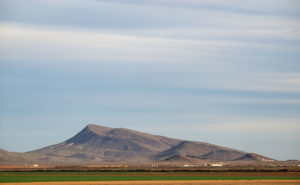 The slanting top of Black Butte first caught my attention while I was still working. I drove the forty mile trip from Wintersburg to Congress on the Vulture Mine Road and the butte marked the place where the road turns north. I thought that its shape was the kind of thing you'd see in old western movie backgrounds. I knew that I would use it as a subject some time. A couple of weeks ago while I was shooting in Aguila, there it was waiting for me bathed in late afternoon light.
You can see the larger version on my Website by clicking Here. I hope you enjoy viewing it and I'd love to hear your comments below.
Until next time — jw