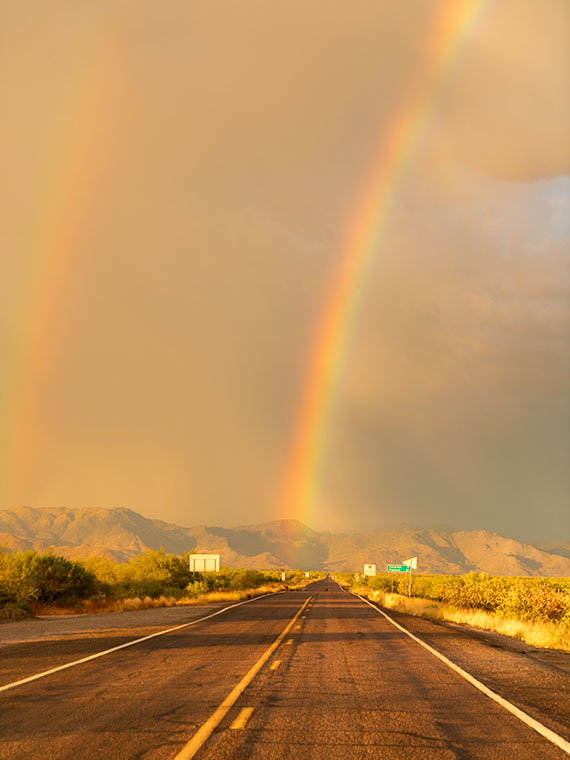 Welcome back to the final leg of our US 93 in the Golden Hour trip—it's like a happy hour but with fewer hangovers and more lens flares. Last week, if you recall, we played hopscotch with raindrops beside the road, capturing the Date Creek Range in its full golden glory. After which, I hopped back in the truck, already chalking up the day as a wrap, convinced the photo gods had closed shop for the day.
As I barreled down the highway, I noticed two glorious arcs of color in my windshield. It was like the sky had painted its version of Starry Night but with rainbows. These weren't your garden-variety, quick-glimpse-or-you'll-miss-'em types. They were vivid, full-arc, double rainbows. You bet I thought about stopping there—if only the road weren't hogging the frame. Nature's light show so entranced me that I almost shot past my exit. Veering onto the ramp like a last-minute shopper on Black Friday, I parked at the bottom, hoping to snag that elusive west leg of the rainbow. No dice.
But then, the universe threw me a bone. As I swung left under the overpass, the eastern leg of the double rainbow was practically touching down on SR 71—my road to El Dorado. I couldn't resist; the cosmos said, "Welcome home, Jim. Your pot of gold—aka Queen Anne dressed in pearls and pinafore is waiting with a nice pot roast."
I wanted this shot to scream, "You're almost home!" as loudly as an Irish setter wagging its tail at the front door. Standing in the middle of the asphalt, eyeballing the lens and framing that quintessential road view, felt right. The receding road signs served as breadcrumbs leading us to the mountain's base—the ultimate exit sign to our slice of paradise. And hey, that mileage sign? Seven miles to home, folks. The rainbow, of course, gets top billing, occupying most of the frame because, let's face it, it's the Beyoncé of this visual concert.
Did you know you can never drive through a rainbow? Yep, don't even bother revving that engine. That's because rainbows aren't physical entities; they're celestial eye candy, illusions caused by sunlight's refraction, dispersion, and reflection in raindrops. If you hadn't fallen asleep in your high school physics class, you'd know these things. When sunlight enters a raindrop, it slows down and bends as it goes from air to water. Inside the raindrop, the light disperses into its various color components. It may reflect off other raindrops as it exits the raindrop, creating this stunning arc. The magic number here is a 42-degree angle of refraction. No, it's not the secret of life, the universe, and everything—though it's close—but rather the angle at which light is refracted to form that vibrant arc in the sky."
And just when you thought one rainbow was enough to make you pull over and risk getting your shoes muddy, nature decides to double down. That's right—a double rainbow, all the way! But wait, there's a twist. If you look closely, you'll notice the colors in the second, fainter rainbow are flipped. While the primary arc screams 'ROYGBIV,' its more introverted twin whispers' VIBGYOR.' What's the deal with that, you ask? The second rainbow undergoes a second reflection inside the water droplets, effectively flipping the color scheme. It's like nature's version of a plot twist in a thriller movie. You never saw it coming, but it makes the story better.
You might be scratching your head, wondering why you don't always get a two-for-one deal with rainbows. The answer, my friends, lies in the perfect concoction of light intensity, droplet size, and good ol' atmospheric conditions. The second rainbow is like the shy sibling at a family gathering—too bashful to crash the party without an engraved invitation from the universe. It needs more specific conditions to come out and play, like bigger raindrops and darker skies to contrast its fainter colors. So, the next time you spot a lone rainbow, know its elusive twin wasn't feeling the party vibe.
Hey there, rainbow chasers and golden hour aficionados! I hope you've enjoyed this magical journey down Arizona's highways as much as I have. If this picture has left you starry-eyed and longing for more, don't forget that you can see bigger versions of this photo in my New Work collection (Jim's Web) or its page at Fine Art America (FAA Page).
While we're wrapping up this month's project, rest assured that another adventure is on the horizon. So make sure you swing back around next week for a new slice of life, served up Jim Witkowski style. Now it's your turn. Have you ever encountered a vibrant double rainbow that made you forget about your exit? Or maybe you have a rainbow story that can top mine? Either way, spill the tea—or, in this case, the rainbow—in the comments below!
Till next time
jw
Techniques: The Wide-Angle Wonder—Capturing Expansive Landscapes
Do you know how the perfect landscape shot often feels like trying to fit a square peg into a round hole? There's just too much beauty to squeeze into that tiny frame. Enter wide-angle lenses—the landscape photographer's magic wand for making square pegs fit just right.
Let's start by cracking the code on focal lengths. A wide-angle lens typically has a focal length of 35mm or less. And this little number can pack in a lot of sky, earth, and anything in between. That's why it was my go-to for capturing this double rainbow phenomenon. It allowed me to give the rainbow—and its quieter, introverted sibling—the room they needed to shine.
Wide-angle lenses aren't just for fitting more stuff into your shot; they're great for storytelling, too. In our Double Rainbows Over Congress, the wide-angle lens allowed me to include the expansive sky, the road signs gradually shrinking into the distance, and the mountains' embrace, all without cramping the style of the rainbows that are undoubtedly the stars of the show.
But it's not all rainbows and unicorns. Wide-angle lenses can distort straight lines, making them curve towards the edges of the frame. Sometimes, you can turn this into a creative advantage, like making the road seem even more stretched, like reaching for the mountains. Other times, you might want to tweak things back to normal in post-processing, using lens correction features.
A word to the wise: wide angles can make close objects appear more prominent, and distant objects look farther away. But don't be fooled—this lens isn't an all-you-can-eat buffet for your frame. The trick isn't to turn your photo into a yard sale of visual elements; it's about emphasizing what matters. Do it right, and your image becomes a gourmet burger with just the right toppings. Do it wrong, and you've got yourself a Dagwood sandwich—so stuffed you don't know where to take the first bite. That's where your artistic judgment comes into play. How much space do you want to give each element so they all get their moment in the sun, in this case, between the rain showers?
And there you have it—a quick but jam-packed dive into the wonders of wide-angle lenses for landscape photography. I hope you find it as liberating as I do when you're chasing your next perfect shot.