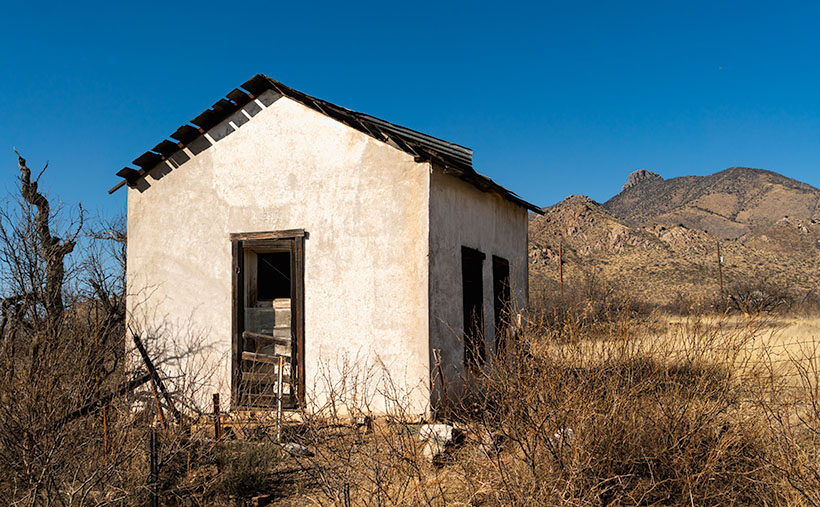 Ghost towns are a big business in Arizona. That's good because we have our fair share, and a few of them attract many tourists. They're our Disneyland. As soon as your relatives hit the tarmac and demand to see the state, the first suggestion out of your mouth is, "Let's go to Jerome (Bisbee-Oatman-Tombstone-etc.)." You'd think that, by definition, ghost towns are abandoned places—they had their heyday long ago, but the residents left when things went south. But, that's not necessarily true. The population count in some of our mining towns rivals the numbers they had in their prime. Our hometown of Congress is an example. People move here to get away from Phoenix's smog and traffic—or the Minnesota snow—and they're all on the road and in my way.
I've concluded that somebody loves it and wants to live there no matter how remote one of these places is. Take the town I introduced last week—Dos Cabezas. Among the derelict buildings, there are two surviving businesses. One is an art studio/gallery (Dos Cabezas Art Gallery), and the other is a bed and breakfast (Dos Cabezas Retreat Bed and Breakfast). At least those are the two places that advertise their presence. There are several cattle ranches in the area, and there is an emerging wine presence, but not within the town limits.
I don't know anything about the gallery, but enjoying a glass of local wine while staring at the stars on the B&B patio would be a treat. Since it's closer to the Chiricahua National Monument, it's an alternative to the chain hotels or downtown dives in Willcox. The two guest rooms are in an adobe walled casita, and as the name implies, the hosts include breakfast. A drawback for Queen Anne and I would be dinners. The nearest restaurants are 15 miles away in Willcox or Douglas, over an hour's drive south. If you're a person that needs bright lights and noise to sleep, the retreat wouldn't be your cup of tea—the nights in the middle of Sulphur Springs Valley are exceptionally dark and silent.
As you can tell from this week's picture, the little ghost town is at the foot of the Dos Cabezas Mountains. It's near the range's southern reach, so you can only see the south head (Cabeza). There's a road and trails that will get you to the top, where I imagine the view of the valley and Willcox Playa is spectacular. You need permission to cross a locked gate, and the top is steep, so why bother?
In this image that I call White House, I assume it was a dwelling. It's a palace compared to some of the miner's shacks I've seen. Unlike the other buildings in Dos Cabezas, this one is a fixer-upper. You have affordable housing with a bit of paint, a few shingles, and a yard clean-up. But there's probably a community historical committee that needs appeasement, so you can't paint it purple.
Unlike last week's photo, the white stucco pops against the brown mountain and clear blue sky, and I like that. There's plenty of side yard where I visualize Queen Anne hanging laundry on a solar drier. Then, this would be a picture that Norman Rockwell or Andrew Wyeth would envy. Where's the Saturday Evening Post when you need them?
You can see a larger version of White House on its Web Page by clicking here. Next week, we continue down County Highway 186 in search of an image worthy of another car stop. Please join us.
Till Next Time
jw