We're down to the final month of this gawd awful year. For one, I will be happy to get my vaccination and venture back out into the world again—well, right after you get yours, and I see that you don't get sick and die from it. I'm afraid that it'll be months before it's my turn because I'm too young and pretty. So, because it's a short month, and Queen Anne has abandoned me, we're going to explore a road that's both close by but too expansive to cover in one day.
This month's focus will be on a road, unlike what we've covered on this platform before. It's not even dirt. It's a road that stretches from Jacksonville, Florida to Santa Monica, California. It's also the longest possible way to cross Texas. When Anne and I visited Deb and Fred in Austin several years ago, I was dismayed to see a highway sign that said our destination was further off than the two states through which we'd already driven. I'm, of course, talking about Interstate 10.
Calm down, we're not going to do the whole thing in one month, and I'm not ready for a lifetime commitment (ask Anne). For December, we're going to point out the landmarks that I enjoy seeing between Phoenix and the Colorado River. Even with that limitation, there are too many to fit into four Sundays. We're not even heading in a particular direction; we'll talk about each place as I get to it.
If you're like me, you loath driving cross country on the Interstates, but they are the most efficient route when your time is limited. I've made countless trips between Los Angeles and Phoenix since moving here a half-century ago, and the flat desert always was the worst grind—river, flat, mountain, flat, mountain, flat, town. After I learned some about the mountain ranges, it was more enjoyable to know that Courthouse Rock was coming up on the south side or that I could spot the abandoned solar observatory on top of Harquahala Mountain. It was like saying, "Hi" to old friends as we passed.
This week's featured image was taken in the Tonopah area. From east to west, you'll pass the Palo Verde Nuclear Generating Station, stop at Tonopah Joe's for gas and heartburn, then on the north side of the highway—where Salome Road crosses—there's a prominent horn mountain, called Big Horn Mountain. It's the centerpiece of a wilderness area that's the same name. Actually, there are two wilderness areas separated by a dirt road that I've yet to discover. These are the Big Horn Mountains Wilderness and the Hummingbird Springs Wilderness across the street. You can do backflips across the road from one to the other.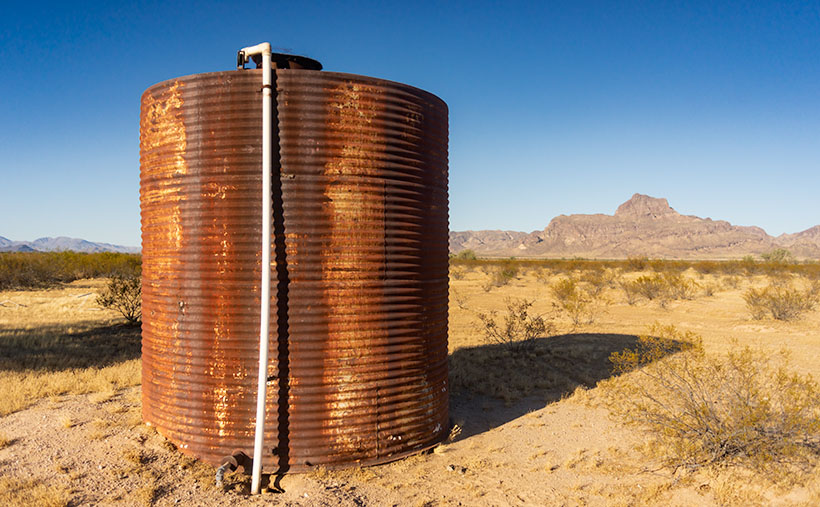 This week's featured image that I called Big Horn Tank was taken from the Harquahala Plain off of the Salome Road. There on the open range, I found a rusty water tank for an interesting foreground. I think that rust is a photographer's favorite color, and I like how the white PVC pipe accents the tank. The other thing I see is how little vegetation cattle have for grazing. They don't eat creosote (would you), so they only munch on the yellow grass.
You can see a larger version of Big Horn Tank on its Web Page by clicking here. Be sure to come back next week for another roadside landmark from Interstate 10. Tomorrow, I have to phone the Queen to see where I'm allowed to go. Wait till I tell her what happened to me as I was leaving Algodones yesterday—she'll never let me out of the house again.
Until next time — jw