My favorite landscape photographers have different styles of working with a horizon. There's a group that omits the sky from their images. Charles Cramer, for example, most often leaves the sky out of his pictures. Michael Kenna and Ansel Adams use the skyline as part of their image's graphic design. On the other hand, Mitch Dobrowner's images are mostly sky and extreme weather. (To be honest, if I ever had an opportunity to go on one of Mitch's shoots, I'd take lots of underwear because I'd be scared.)
I can't think of a master photographer that exclusively shoots sky. I don't know why. Perhaps it's the lack of context. Clouds around the world are the same. Without a ground-based reference point, you can't tell where or when I took the photo, and there's no sense of scale because clouds come in all sizes.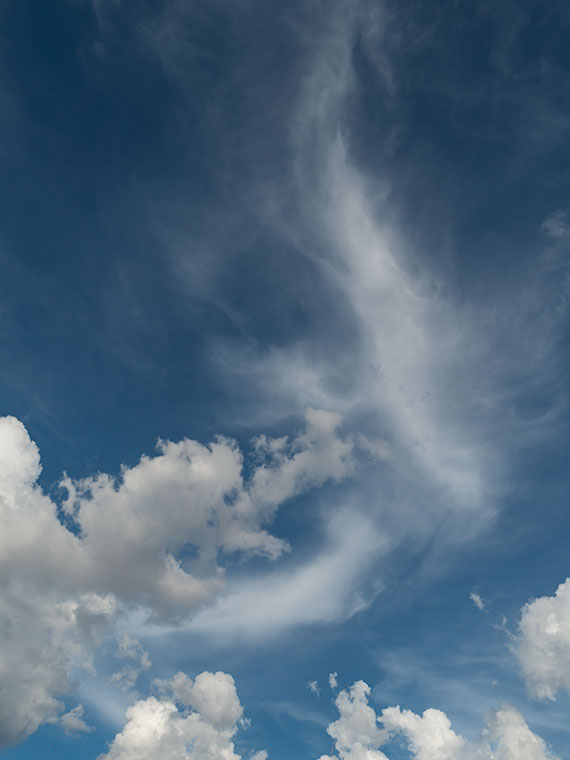 My picture of the week, for example, could have been taken in Tibet, at the Grand Canyon, or even in your backyard. It's not obvious what year, season, or time of day it was taken. It's essentially a monochrome image that would work as well if it were black and white; only the subtle color in the cumulus clouds hint of the hour.
The story of this week's image—that I call Cirrus Streak—is that this is another of my August Monsoon Clouds project. In my quest to hunt down and capture images for the project, I drove a back road through the valley between the Weaver and Date Creek mountain ranges. As I said last week, the Weaver's (along with the Bradshaw Mountains) are a breeding ground for our evening storms.
As I drove, I noticed this streaky cirrus cloud thousands of feet above a cluster of cumulus clouds building low over the mountains. I'm partial to how the high wispy clouds get distorted into interesting shapes from the winds aloft. So, I stopped the truck and framed these clouds as a graphic design. If you're disoriented, the blue sky gives you a clue. The color always gets lighter towards the horizon, so the mountains appear under the frame's bottom.
You can see a larger version of Cirrus Streak on its Web Page by clicking here. Be sure to come back next week to see another image from my cloud hunt grab bag.
Until next time — jw