We're still hanging in Aguila for the new Photo of the Week. Although I drove twenty-five miles to the little town because I had wanted to shoot a specific sign, I then poked around town to see what else I could photograph, and I found the number one reason—if there is such a thing—to visit Aguila. Here's my shot of the natural window in the hills south of town formed by eagle-head shaped rocks. Aguila is the Spanish word for eagle and hence you have the town's name source.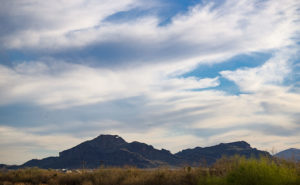 I'm sure there's a way to climb up to the window because I've seen people up there. I didn't take the time to find a way on this trip but I see on Google Maps that there is a trail from the cemetery south of town. As I said last week, there is a good view of the window along US Highway 60 by the working fields of Centennial Ranches. Even a moderate telephoto lens will bring the Eagle Eye closer.
I followed dirt roads running between the fields to get closer for this shot. They had street signs so I assumed the roads were public. It was late in the afternoon when I snapped this and the beautiful streaky clouds were beginning to get color. I should have waited for sunset, but I wanted to get to another scene that I saw along the trip (which was a bust). You can see the larger version on my Website – Here. I hope you enjoy viewing it and please let me know what you think by leaving a comment below.
Till next time — jw