My reason for these monthly jaunts on Arizona roads that I've never traveled is two-fold. The first is to give me a reason to get out and shoot. The other purpose is to force me to explore places that I haven't, and see what's out there; to see what I haven't seen.
The thing that was new to me on this trip was seeing saguaro growing among the juniper. Think about it. The mix of those two plants never happens. The saguaro stops growing at about 3000 feet because they don't tolerate frost. To be in a field of juniper, you'd have to travel to Sedona, Prescott, or Payson. I yammered on and on about this phenomenon Anne as 17 Mile Road twisted up into the Poachie Range. At one point, I was so confused that I stopped and pulled out my Garmin to check the elevation.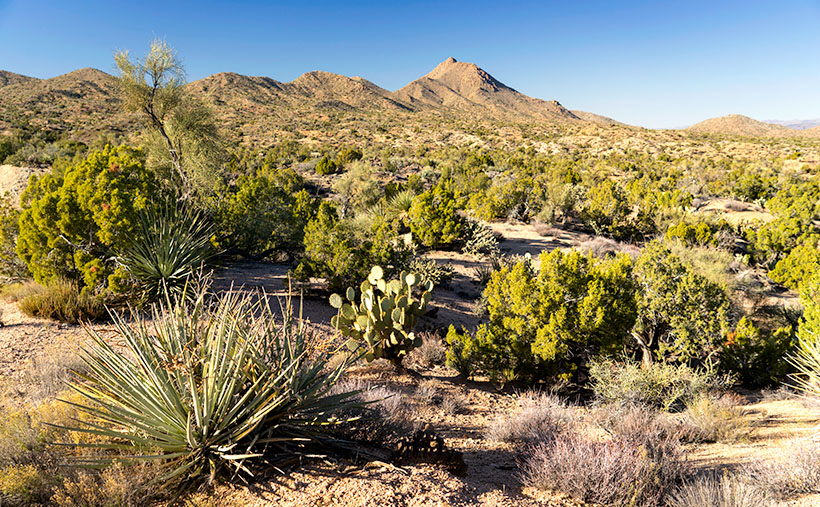 The Poachie Range is 30 miles long, and you see them to the west of U.S. 93 between Nothing and Wikieup. They're not very tall, with its tallest peak being Arrastra Mountain at 4807 feet. So, I usually wouldn't expect to see Juniper this low. When I checked my GPS, the elevation was 3600 Feet. All of which leads me to believe that winters aren't sever here, but more rain falls here than on the desert floors. Anyways, that's my story, and I'm sticking to it.
The road on which we traveled, crosses the Poachie Range south of its prominent northern peak—Greenwood Peak. It's the subject of this week's featured image. It only rises to an altitude of 4300' feet, but it still provides a handsome backdrop for the unusual mixture of cactus and evergreens.
You can see a larger version of Greenwood Peak on its Web Page by clicking here. I hope you enjoy viewing it. Join us next week as we finish up our trip around the Harquahala Mountains.
Until next time — jw