There's a growing trend in the comedy routines that Queen Anne and I watch on YouTube's Dry Bar channel. The bits poke fun at young people for not knowing about obsolete things my generation regularly used. I'm not sure if the joke is at the youth's expense or if it's simply us old farts complaining about change again.
To give you an example, one performer asked a teen in the audience to explain the relationship between a pencil and a cassette tape (the kid didn't know what the tape was). Another was about the phone books we used to get each year. The fact that we had to look numbers up on our own was mind-boggling enough, but they couldn't comprehend that the books were primarily used at grandma's house as a booster seat. Finally, hold up a 10' curly phone cord and ask a young person why it existed.
I uncovered another lost phone tradition this week after talking to a particularly annoying salesman. It's known as the old 40mph-hangup. I learned it from my dad back in the age of unenlightenment. It has Zen-like qualities and resembles a marshal-arts move, but it more closely mimics the grace of a baseball pitch. I'll try my best to describe it. After you've had your fill with the person at the other end of the line, you scream a final taunt—after all, you must have the last word—then as you lift your left leg, you begin to swing your right arm in a full roundhouse motion and slam the handset onto the cradle. It should bounce at least once. I saw my father shatter an old black Bakelite phone we were renting from Ma Bell. Although this hang-up never accomplished anything productive, it always put a satisfying exclamation point on your lunacy.
With remote handsets these days, they took away that small joy of life. No matter how hard you mash the End button, it's silent. Your adversary doesn't know if you hung up or the phone dropped the connection. I don't own a smartphone, but vigorously swiping at the screen can't be any better. Maybe someone could write an app that plays a recording of a loud car crash before disconnecting. That would come close. Kids don't know what they're missing.
Now we have to find another channel to drain all that excess adrenalin. I could have run up and down the Little Granite Mountain Trail a couple of times with that pent-up anger. I wouldn't have even broken into a sweat by the time I reached upper flats. Instead, I had to stop constantly until the pounding in my ears subsided.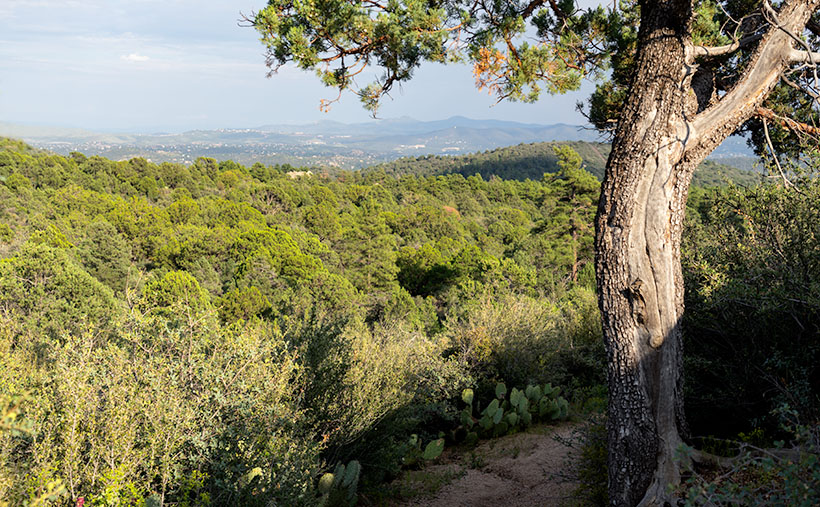 It was at one of those rest stops that I got this week's featured image. Close to the trail's top, it begins to flatten, and you can finally see above the trees. After I passed this Alligator Juniper, I stopped for a rest. Here, I could see Prescott in the distance below, so I couldn't resist snapping a photo. The view was hazy from the humidity, so I'm sure it would be spectacular on a clear winter afternoon. I call this photo Prescott Basin. I hope you enjoy seeing it.
You can see a larger version of Prescott Basin on its Web Page by clicking here. Next week, we'll walk around and take in more views from the top of the trail, so I hope to see you then.
Until next time — jw