For September, I'm going to bring you something out of the ordinary. We're going to put the clouds behind us, pull off the road, and get out of the truck. We're going to go for a short walk down a path—well, it's more like a hike up a steep trail. I survived, so you'll be fine. I promise you'll be fine.
The subject that I originally had in mind for this month was the Sierra Prieta Range. The name is Spanish and means Cold Mountains. They are an offshoot of the Bradshaws. If we went to the top of Prescott's tallest building and faced west, you'd be looking at the Sierra Prieta. Then if we turned south, the mountains that we stared at would be the Bradshaws. The best-known icons of the Sierra Prieta are Granite Mountain, Little Granite Mountain, and Thumb Butte.
So, when the rains finally broke late this week, I hopped in Archie and drove up to the Little Granite Mountain trailhead. All I intended to do was get above the treetops and photograph some of the mountain peaks. However, the surrounding chaparral was so dense that I wound up where my trail intersects with the Clark Spring Trail—a mile and a half further and four hundred feet higher than I intended. The good news is that I frequently had to stop and rest, and when I did, I was able to shoot some pretty things around me. When I returned to my computer that evening, I changed my month-long project from an entire mountain range to a single trail—well, the first third of it.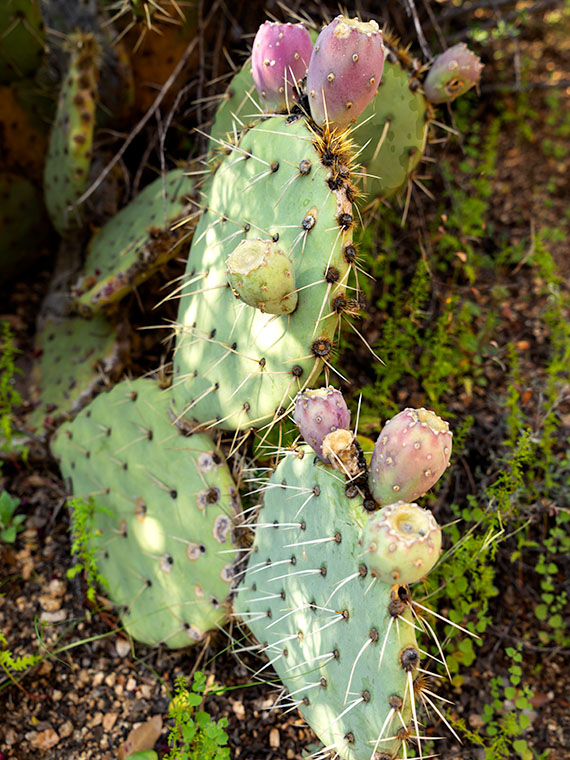 The underbrush along the trail is a transitional zone. It's where Sonoran Desert plants intermingle with those found in our mountains. This week's contribution is an example. In the photo that I call Prickly Pear Fruit, a common cactus is growing in the shade of an Alligator Juniper. Y'all should know by now that I'm fond of subjects in dappled light, and that's what drove me to my knees to get this shot.
I like the soft pastel colors of this plant and the complementary color of its ripening fruit against a background of deeper green ground ferns (or whatever they are). I guess the purple is the prickly pear's way of saying, "Here, eat this part," to javelina. They eat it like candy. But, the piggies disperse the seeds in their scat, so both parties benefit from the exchange.
As an aside, the fruit makes a great jam that is getting harder to find. It's sweet and spicy, and I like that taste combination. Because it's not widely sold, only local kitchens produce it. Our health inspectors have been shutting down the mom-and-pop shops because they don't have extensive stainless steel production lines like big food producers. So—like moonshine these days—you have to know someone who knows someone—or roll your own.
You can see a larger version of Prickly Pear Fruit on its Web Page by clicking here. Next week, we'll take a few more steps up the trail until I'm out of breath again, and you'll see what I found while I rested.
Until next time — jw