It was the fourth article about my time shooting pictures in Colorado's San Juan Mountains when Queen Anne burst into my office—all akimbo—and began scolding me. "Fred and me this, and Fred and me that. I haven't had press in a month." I felt like the guy in that Toyota commercial trying to answer his wife's question. "I'm sure there's a right answer here." I quickly flipped through my brain's Rolodex of apology cards, before I realized she was right. I had to change tactics, "If you want press, you have to put your butt in the truck." I had her.
Last week, I announced that I was leaving for one of my back-road photoshoots, and I wouldn't be back until after dark. I packed my gear and went into the house to grab my cooler stuffed with water and snacks. When I got back to the garage and jumped into Archie's driver's seat, guess who was sitting shotgun? Yes—it was Her Highness.
Now that her ego is satiated, I can tell you about October's topic. I picked out a back-road that goes from Bagdad to Williamson Valley—northwest of Prescott. On my Gazetteer map, it's identified as Behm Mesa Road, but it had several other names as we drove it, like Camp Wood Road, Forest Service 21, or Yavapai County Route 68. The map says it's broad and well-graded, so a passenger car should make it, but there are sections on Behm Mesa's shoulder that are rough and rutted, so I'd feel more comfortable driving at least a pickup truck with some ground clearance.
The terrain starts in Bagdad with large boulder fields interspersed with grassy flats on the mesa tops. As the trail gains elevation, the trees change from scrub oak to juniper and ponderosa pine near the Santa Maria Mountains.  After that, the road descends into the open grasslands found around Prescott. There are a couple of cattle gates that you have to open (and close) as you cross private ranches. Most of the route's middle section runs through the Prescott National Forest, including a part along the edge of last Augusts' Sheridan Fire. It's weird/unusual to see a healthy forest on the road's north side while the south side is black and barren.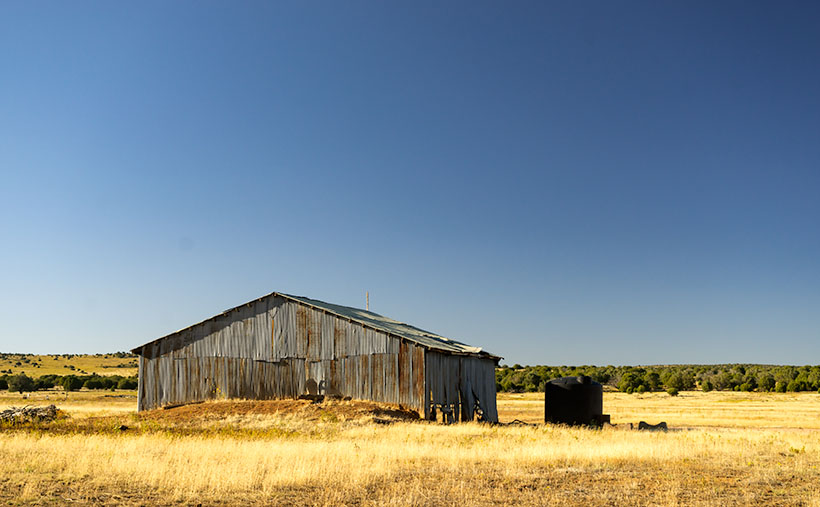 I took this week's featured image near our starting point. As the road leaves Bagdad, you slowly travel on the shoulder of Behm Mesa—where the rough part is. September's heavy rains may have been the cause of the ruts, and the county hasn't regraded it. Shortly after it makes its way to the mesa's top, you reach the first gate at a ranch house, with black cattle hanging around a water tank. Just past the tank was this tin shed in a golden grass field that had a nice contrast against the deep blue sky (opposites on the color wheel). You all know that old buildings—like this one—are a favorite subject of mine, so I had to get out and snap a picture. I call it Tin Shed.
You can see a larger version of Tin Shed on its Web Page by clicking here. I hope you enjoy viewing it. Next week, we'll have another image to show from the drive that Queen Anne (she gets make-up press) took on the Camp Wood road.
Until next time — jw