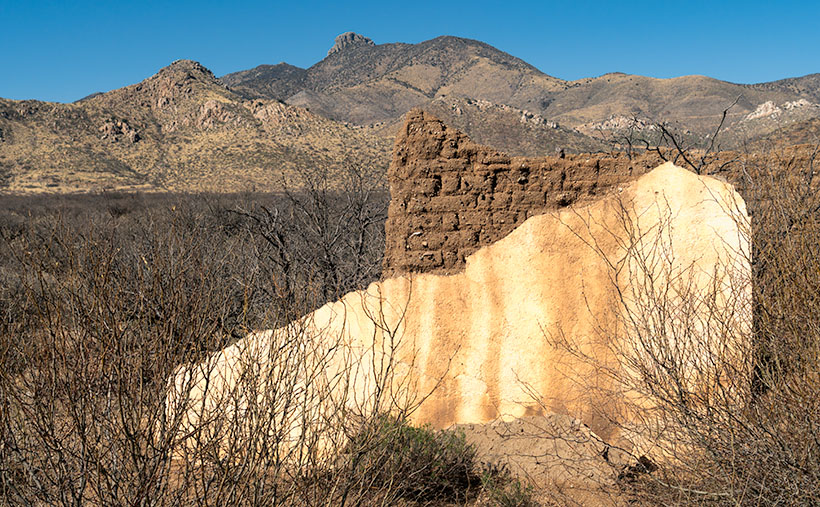 Roughly midway between Willcox and the Chiricahua National Monument, the county highway's speed limit drops to 45 mph. At first, there's no clue about the slowdown until a small sign announces that you're entering the town of Dos Cabezas. Only three of its dozen or so buildings are worthy of occupancy. The rest are in various states of decay. It's only a city block long, and you soon return to an empty country road, where you can reset the cruise control.
After driving through Dos Cabezas three times, I insisted on stopping on our fourth pass. As regular readers know, I'm a sucker for historic buildings, whether they're restored or about to be blown down by the wind. I'm glad that I did, and this week's featured shot is one of several that I captured during that afternoon.
As with most Arizona ghost towns, Dos Cabezas's history is a flash of glory followed by a long decay period. The town is located at the southeastern reach of the mountain range, which shares the same name. When word came out that prospectors discovered gold and silver on the mountain, miners swooped in like hungry vultures to feed on a carcass. The Feds opened a Post Office in 1878, which served a population of 300 that eventually swelled to over 4000. They found little gold in the Elma mine, but there were some copper deposits. Investment capital dried up when investors discovered that the mine was a scam and part of stock fraud. People left to find work elsewhere. As the town dwindled, the Post Office finally closed its branch in 1960. I guess that you could count today's Dos Cabezas citizens on one of your hands.
In this picture that I call Adobe Ruin, you see the remains of a large building constructed using adobe bricks and stucco. The town once had a hotel, and these sections may be all that's left of it. Adobe was a common building material throughout the old southwest because it was simple to make. All you need is to combine mud and straw and let it dry in the sun. The thick bricks provide plenty of protection from the desert heat and cold winters, but they quickly erode once water enters them.
I took several variations of the building, but I favored this one because I liked the mud stains streaking down the wall, and I liked the wall's placement before the background's two-headed mountain. The desert willow and hackberry show how soon nature reclaims her own. Ashes to ashes, as it were.
You can see a larger version of Adobe Ruin on its Web Page by clicking here. Next week, we'll walk down the street to look at another of the Dos Cabezas ruins. Come back then and have a look.
Till Next Time
jw