There's something wonderfully romantic about how cowboys spent evenings eating beans around a fire before laying out their bedrolls and sleeping under the stars. It makes me wonder if I would have been any good riding a fence line. I love the outdoors, campfires, looking at the stars, and dreaming of the ladies back in town (sigh). I can assure you that I could never do that because the last horse I got on said, "oof" and sleeping on the ground has rocks, snakes, spiders, scorpions, skunks, and rabid chipmunks—not to mention the inclement weather.
Queen Anne and I still enjoy getting out in the wilderness; we just bring half of the house with us. For some reason, I sleep very well in our little Casita trailer. She has two layers of foam over the cushions that make into a full-size bed, and when I crawl under our down coverlet, my eyes slam shut faster than a mouse trap. As I lie next to my love and wrestle for more space, I listen to her rhythmic breathing. The hypnotic cadence is a mantra luring me to dreamland—until she misses a gear and sounds like a manual transmission exploding. But, she stops as soon as I nudge her to roll over.
All of this is fresh in my mind because we're recently back from spending the week in the KofA Wildlife Refuge with The Ritz—our trailer. We succeeded in getting more images to finish up with this month's topic but concluded that there is a lot more to the KofA range than a couple of blog posts. I think it may need to be a long-term project.
This tip was the first time we used the trailer in winter, and although the days were sunny, the wind blew, and the nights were colder than our Alaska trip. We had to use its heater at night. Even though we set the thermostat to 58º, it still came on often and blared at 85dB. The first time it came on, it made that burning dust smell and I thought we were going to die of carbon monoxide poising, so I opened the windows, which was counterproductive. Like all furnaces, the smell cleared eventually and we stopped jumping every time it started. Even with that racket, I slept until sun up.
We spent two days exploring and shooting photos at the refuge, and on the last day, the wind died, so we were able to use a week's worth of wood for a fire. We ate brats, drank rich cocoa, and roasted marshmallows for jimmyums over the burning logs. Its warmth kept us outside long enough that the stars came out—all of them. We stared at Mars so hard that it began darting across the sky until we looked through binoculars and proved it wasn't doing that. Finally, the creamy streak of the Milky Way began to reveal itself and forced me to set up my camera.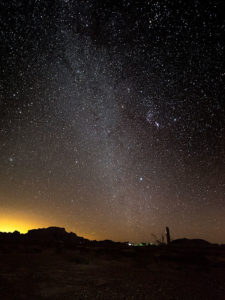 This week's featured image is the result of that effort. It's called KofA Milky Way, and I shot it from our campsite. The bright spots on the ground are from the next camp. The mountain is Signal Peak silhouetted against the lights of Phoenix—150 miles to the east. The constellation Orion is center-right, and Pegasus with the Andromeda galaxy would be overhead, but the fire died, and the cold chased us inside before we could find it.
As usual, you can see a larger version of KofA Milky Way on its Web Page by clicking here. I hope you enjoy viewing this week's post and next week; we'll show another featured image from Arizona.
Until next time — jw