This week's new image shouldn't be a surprise. I sort of previewed it in the last post. It is the row of houses that I took while visiting the ghost town of Stanton last week. If you missed the post you can scroll down to learn more about the gold and the shady characters that lived there. Maybe not as exciting as it was, Stanton, is now an RV Park where baby boomers like me can spend their vacations panning for gold.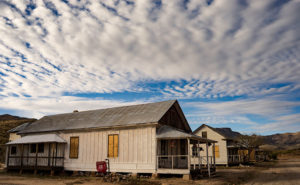 It was late in the day when I finally got to Stanton and the light was low with long shadows. I had watched the sky during the day thinking I may not go because it was gray and uninteresting, but in the afternoon, the clouds broke up into puffy finger-like shapes with a good light underneath. I started shooting the front buildings first, frankly because of the old signs on them, and when I satisfied myself that I had got what I wanted, I walked up the dirt street where this row of homes is. I loved the soft light falling on the white-washed buildings. The light wasn't too harsh that it blocked up the shadows, yet it still showed off the building's dimensions. Because the sky was so striking, I backed off from the homes to include the clouds. I think this shot came off as more than a house picture. I see it as a specific instant of time when the light was weird and the clouds were right. I'm very happy with it.
I named this shot Stanton Street and now you can see a larger version of it on my Website by clicking here. Please feel free to share your thoughts in the comment section below and don't be bashful about clicking on the Like button if you enjoy what we're doing.
Until next time — jw