My first photography class was a half-century ago. I had just come home from a year-long tour in Korea with a brand new Nikon F2, and I wanted to learn how to be a photographer. I was stationed in Pasadena at the time (I'd tell you what I did, but then I'd have to kill ya,) and Al Bowman—an old friend—convinced me to sign up for a Pasadena City College night class. As frequently happens with crafts-centered night classes, it was more of a club. Everyone got an A, and the same people always attended each semester.
I no longer remember the instructors' name, but he had been published in a couple of journals, so his credentials were impeccable to us. Although I wanted to shoot black and white in Ansel Adams style, our classwork was shot using Kodachrome. Each week the teacher would show our work on a Kodak—antique, even then—slide projector that he liked because it was bright and had an exceptional lens. It was essentially a portable searchlight that showed even the most minor flaws when closely viewed. It also doubled to signal Bat Man.
Even in those days, Ansel Adams was the master of landscape photography, but cover shots on Life, Look, Saturday Evening Post, and others of that genre were color. They all followed the formula we read in Kodak's How to Make Good Pictures—a bible for beginning photographers (I still have my thread worn copy).
The method of shooting landscapes in the book—and what the instructor taught—was that you find an interesting background and properly compose it within your frame, then get a model (wife, friend, stranger) to pose to one side as if they were taking in the beautiful vista. Your model should be wearing something red or bright yellow to capture the viewer's eye. Finally, if there's any possible way you could get a sun flare to shine on your model, that was the cherry on the sundae. That classic nature shot had been de rigueur since the thirties.
It was so pervasive, it was trite, and it wasn't how Ansel shot, so it turned off photographers like me. We felt that there was beauty in nature even if no one was there to enjoy it, and sunrays … really? Although I've seasoned over time, I still avoid light beams glowing from clouds. It's become ingrained. Maybe I've over-corrected because of those days.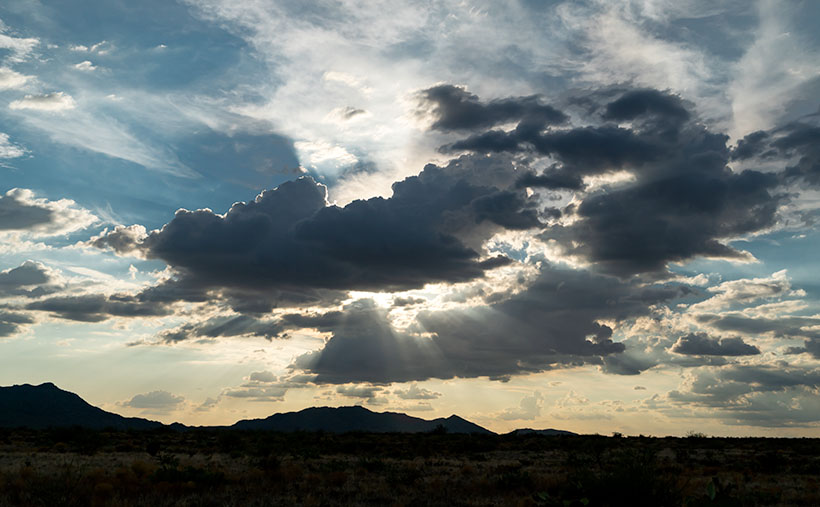 Those conflicts came to a head with this month's cloud project. I wanted to show the pretty side of our Monsoon Season, so I've been capturing clouds all month. On my last outing, I concentrated on the eastern sky as I drove north to Hillside. The clouds billowed in pure white as they built in the afternoon sun. However, there was a darker, more brooding cell on the left side of the road, but it had shafts of light beaming from it. For miles, I tried to ignore it because it looked too different from my other shots, and <shudder> there were sun rays. It followed me for miles like a puppy wanting attention, so I finally gave in and took this week's photo that I call Sun Rays. I hope you're happy since I broke one of my rules, but I will not put a model wearing a red coat in one of my photos—unless that's all she has on.
To get a shot like this, you have to shoot towards the sun and make sure it's hidden from the lens. Otherwise, its bright light will wash out the detail around it. Another consideration is how you treat the foreground. In this case, I over-exposed the shot to get some texture in the mountains and then brought back the sky in post-production; otherwise, the ground would have been a lifeless silhouette.
You can see a larger version of Sun Rays on its Web Page by clicking here. Be sure to come back next week to see what happens next.
Until next time — jw