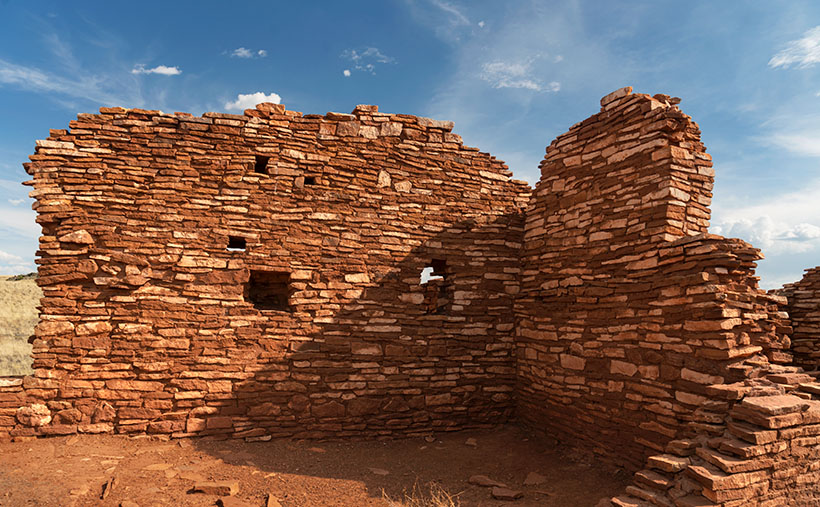 In the half-century that I've called Arizona home, I can't count the times that I've traveled thru Flagstaff and then north on Highway U.S. 89. I travel that route to get to the Grand Canyon, Lee's Ferry, Lake Powell, Monument Valley, Utah, or Colorado. My best guess would be once a year on average. Sometimes I even stop to take pictures along the way.
With that many trips, you'd think I'd pay no mind to the scenery, but that's not true. There's always something new. There's one location that makes my jaw drop, no matter how many times I see it. I'm talking about the view at Sunset Crater Pass I wrote about last month. It's an in-your-face example of something I learned in a college geography course: mountains affect climate.
The climate on the south side of the San Francisco Peaks is the polar opposite of that on the north. As you travel to Flagstaff from Phoenix, you climb into the pines, and the temperature can drop as much as 30° along the way. As fronts move north from the Gulf in the summer or west from the coast in winter, the mountains wring moisture from the air as it climbs the slopes. After passing over the mountains, the air is dry and picks up pressure on the way down. Dry air heats faster than humid air. The phenomenon creates a rain shadow on the mountain's leeward side. The next time you travel north of Flagstaff, stop your car at the pass and take a look back—trees. Then turn to the north again—trees kept away.
Now that you know how mountains work, it's easy to understand why the early Pueblo Tribes living at Wupatki lived in rock dwellings instead of log cabins. Amazingly, the Indians still used timbers to span the walls and hold up a roof. That means they had to drag lumber off the mountains by hand. They built their structures before the Spanish arrived, so they didn't have horses.
This week we're looking at one of the bigger pueblos in the National Monument—Lomaki. That's a Hopi word that translates into English as "Beautiful House." Anthropologists have partially restored its two-story walls. As you walk through the ruins, you begin to appreciate the ancient people's masonry skills and tenacity. They must have had to rent scaffolding for walls that size at A-Z Rentals in town. It was either that or standing on one another's shoulders. You'd do the same thing.
In this week's picture, titled Lomaki, you get a good idea of the wall height. The windows are at eye level. A peculiar thing you notice in this shot is the walls are leaning. I'm not sure if the scientist put that feature in on purpose or if they weren't as skilled as the original Pueblo builders. As a photographer, I have a thing about lines that aren't level or square. Oceans don't run downhill, so I wince whenever I see a seascape with a crooked horizon. On my first visit to Lomaki decades ago, its tilted walls jumped out at me. They look like a good wind will blow them over—and this area of Arizona is exceptionally windy. However, on this year's visit, the walls were still standing and didn't seem any worse, so maybe they'll remain long after I've gone.
You can see a larger version of Lomaki on its Webpage by clicking here. Next week, we'll walk around Lomaki and see its details. Come back then and see what we find.
Till next time
Jw
BTW:
The calendar cut-off day is Tuesday, so if you are interested, place your order.