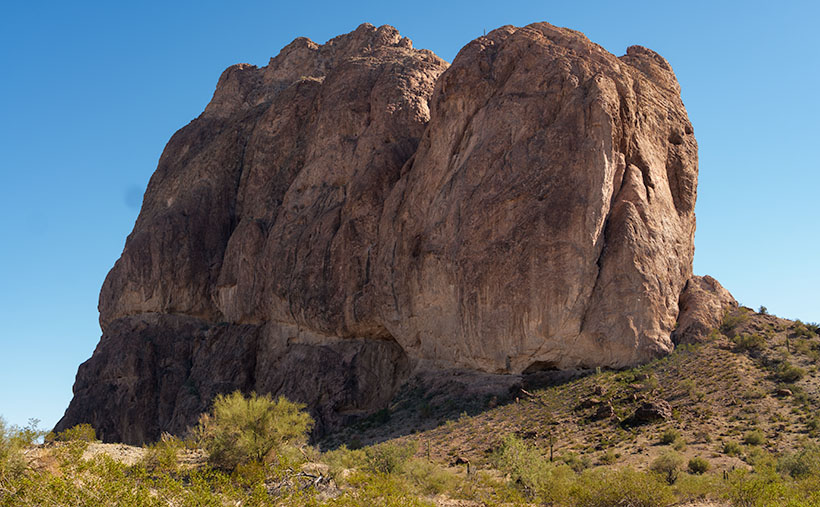 When you were in school, did you learn about the Lewis and Clark expedition—the party that explored the Louisiana Purchase and discovered the first Starbucks in what's now called Seattle? Sadly, when it comes to the outdoors, my buddy Fred and I will never rise to that level of notoriety. Most likely, we'll go down in history more akin to Laurel and Hardy.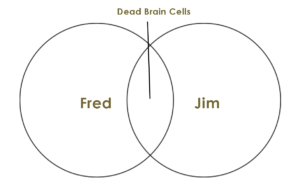 Don't get me wrong, Fred is a brilliant man. After all, he is an engineer, and I can write complete sentences, so when apart, we're able to navigate the world and safely return home (to the amazement of our wives). But when we go out together, our skill sets overlap like in a Venn diagram and set up a thinking interference pattern that causes things to go south.
To finish up this month's project, the Eagletail Mountains, I needed a couple more photos—ones that are close to the subject. Since it's a wilderness area, that meant hiking. I spent time researching and found a perfect trail on AllTrails. It's only 3 1/2  miles each way, and it goes to a place called Indian Springs. There, we should find a spring and a rock wall of petroglyphs. They described the hike as "the easiest trail in the world. It's an old mine road with little grade change. A baby can do it."
I began calculating. I walk at 2.2 miles-per-hour (I measured it using my hand-held Garmin), so 2 hours in, snap a couple of shots, 2 hours out, and add four hours drive time down and back. The outing should easily take an afternoon. I asked Fred if he would be interested (somebody needed to carry me out when I fell). He said, "Sure."
Monday at noon, I tossed on some comfortable jeans, my whitest Tee shirt (so the rescue helicopter could spot me), and a baseball cap. I drove to Fred's house to pick him up. He opened the front door dressed like an L.L. Bean model, with a freshly pressed 'cool-shirt,' safari hat, day pack, and walking sticks. He was gorgeous.
It was a beautiful day, and we spent the two-hour drive talking about the hike and sharing the maps we brought. Fred downloaded the AllTrails map onto his iPhone; I had printed the directions to the trailhead; we were ready.
Mistake #1: The easy part was getting to the Gas-Pipeline road, but we had to count the miles to the turnoff. As Fred read the instructions, I watched the odometer. When the instructions said, "at 1 ½ mile, turn onto an unmarked road," a road appeared on the left. We turned, but the sign that they promised wasn't there. We continued anyway and came upon a group of young men camped at its end. This place must be our spot, so we parked.
Mistake #2: The boys/men were friendly and were sitting around packing parachutes. If we were in California, I would have expected them to be waxing surfboards. Thet had come to Courthouse Rock so they could climb the monolith and then jump off with a parachute—even though the rock wasn't in danger of crashing. They asked why we had come. They said we were on the wrong road when we told them about the trail. They said we needed to go back to the pipeline road and go another mile. Fred and I looked at one another, the maps, and the app. Since the trail was just over the hill, we ignored their directions—like any person holding a man-card should.
Mistake #3: We started hiking cross-country diagonally toward the trail. "Surely it must be over that low ridge, and we'll see it from the top," I told Fred. We hiked to the ridgeline and saw——another hill. We began the long trudge to its top. What we didn't realize at the time was that we were climbing Courthouse Rock's talus slope. The rock must have been significantly larger at one time because sharp granite chips covered the ground. They had flaked off the enormous tower making the footing lose. Falling on them would hurt—a lot.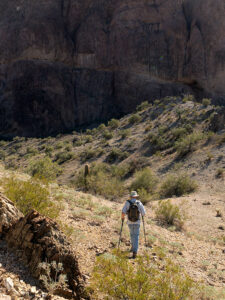 After an hour of hiking uphills and over gullies, we reached a point where we could see the trail. It was on the other side of a deep wash. That meant we could get to it if we could cross the dry creek, but it was still a half-mile away. We only managed to cover less than a mile during the past hour. I was ready to quit, but I could see yet one more ridge on the horizon. I hoped it was the last. Fred volunteered to continue seeing if it was our summit while I sat, drank water, and caught my breath. He confirmed that it wasn't, so we started back when he returned.
Instead of retracing our steps, we made our way down into the wash, where we were able to walk the sandy bottom back to the Jeep in half the time. When we reached the camp, we had to explain our failure to the base-jumping dudes. "Yeah, I thought you should drive to the other road," one of them graciously taunted. Since we were in the area, we did. We found the second road, complete with signs, parking, and an informational kiosk. At least we'll know should we ever go back, but for now, the two-hour drive home was nearly silent.
I shot this week's picture that I call Courthouse Rock at the beginning of our hike. It's of the enormous granite monolith from its west side. The 20-foot palo verde tree gives scale, so I'm glad that the tree photo-bombed my shot.
You can see a larger version of Courthouse Rock on its Web Page by clicking here. Next week we'll finish our Eagletail Mountain visit and move on to another project. Hopefully, somewhere I can drive.
Until next time — jw