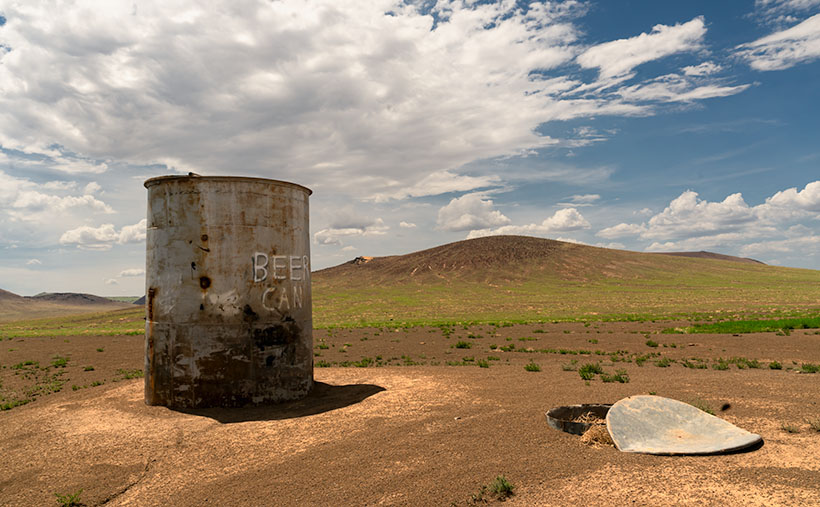 If you drive north on US Route 89 from Flagstaff, you get to see one of the best scenic views in the country. To get there, we need to get around the San Francisco Peaks—the remains of an ancient volcano, and they rise over 12,000 feet—Arizona's high point. Route 89 is on the east flank of the peaks and winds through Flagstaff suburbs that suffered fire and flood damage this spring. As the road climbs a gentle grade, the scenery changes from open meadows full of new homes to a ponderosa forest. There was substantial fire scaring, but many tall, red-barked trees survived.
At the top of the hill, the four-lane highway briefly flattens before you reach the Sunset Crater National Monument entrance road and the 7288-foot elevation marker. A mile further, the road suddenly drops from its mountain elevation to the Little Colorado River Bridge, 3100 feet below and 35 miles away. On an exceptionally clear day, you can see into Utah—I swear.
This vista encompasses every rainbow color. On the left, the dark green pine trees grow down the mountain slope until they make way for lighter green junipers and then the yellow grass-covered cinder cones on the Babbitt Cattle Ranch. The twenty-one miles of perfectly straight blacktop divides the east side from the west. On the east side, patches of black lava flow give way to the distant Painted Desert colored in hues of reds, whites, greys, and purples. Above everything, the deepest blue skies—a color they don't make anymore—tie the canvas together.
Every time I see this scene through my windshield, I have a smile on my face. My joy is probably because I'm on my way to someplace fun, like Lake Powell, Lee's Ferry, the Grand Canyon, or (shudder) Utah. As I drive down the mountainside, I habitually switch my dash view to see if I can recover my gas mileage before I hit the bridge. It keeps my mind occupied for the next half hour. As you all know, I'm easily amused.
Except for a few visits to Sunset Crater and Wupatki National Monuments, I'm usually passing through this wonderland. But, during our July visit to Flagstaff, Queen Anne and I came to the mountain's north side to photograph the cinder cones in the San Francisco Lava Field. They're technically on the private ranch owned by the Babbitt family. The Arizona pioneers that have been successful ranchers, merchants, and politicians.
Before we drove out to the ranch, I checked in at their store in town to see if we needed a hall pass. "No, if the gate is open, you can enter as long as you're respectful and drive on the roads." Taking the caution to heart, I was surprised when we reached the old trading post that there wasn't even a gate to open. The dirt road was so smooth that we didn't tax our Jeep's capabilities—not even its four-wheel drive. It's only a couple of miles to the lava field, but before we got there, we drove by a cattle tank where some uncouth slob left an old beer can. I was so upset that I stopped to document what the thoughtless cretin had done. The picture came out so well that I made it this week's featured image. I call it Beer Can.
As you might have figured out already, it's not actually a beer can but graffiti that some vandal painted on the side of one of the ranch's metal water tanks. They're used to hold water for the cattle during the dry season. Indeed, the lettering is still vandalism, but one that appeals to my perverted sense of humor. Besides the tank, I don't know what the trash can lid is. Perhaps it's a cache to store surplus hay for when a herd is in the area.
An unnamed volcanic cone appears in the background, and it doesn't seem very high until you try climbing it. Neither Anne nor I tried scaling anything on this trip because there weren't any stairs for me to bitch about, so as usual, Anne stayed in the Jeep reading her Kindle while I ran around taking pictures.
You can view my Web version of Beer Can on its page by clicking here. We have a month's worth of photos from the lava field, so we'll be spending October here. I hope you enjoy this week's pictures and come back next week when we present more. Be sure to join us then.
Till next time
Jw
BTW:
We recently discussed making a Route 66 photo trip and producing a large coffee-table book from the new photos. After burning down my calculator, we've put off any such trip until later. We'll wait and see what happens next year.