Arizona has a reputation for being hot—deservedly so. Especially here in the Sonoran Desert. We frequently make the weather news for hosting the highest temperature of the day—a contest in which Gila Bend and Bullhead City are always locked in battle. For some people, any press is good press.
But as I explore the back roads of our state, I've come to the conclusion that the heat here had to be way worse many millennia ago. I came to this conclusion because you can't walk more than ten steps before you step in a puddle of cooled lava—basalt (cooled quickly on the surface), andesite (mixed cooling), and granite (cooled slowly beneath the surface). Not all of this volcanic activity happened at the same time of, course. Millions of years separated eras of activity. What I'm saying is that, at times, Arizona's ground heat far exceeded our summer temperatures. It's probably a good thing that we're living in this era.
The reason I'm hopped-up on geology this morning is because of the next stop that Queen Anne and I made on our one lap of Harquahala Mountain trip. Near where the Eagle Eye Road intersects with the Salome Highway, a series of volcanic hills line the south side of the road. After getting out and clambering all over them, I decided that they didn't have star power. They're interesting, but not that interesting. During my investigation, however, I found this poor little weird saguaro. It had eight new arms growing around it's lopped off the top—sort of like last month's headless version. As I got closer, I saw that the new arms were growing from other truncated arms—at least a dozen of them. It was—much like a cat eats grass to settle its stomach—like a T-Rex chomped off its top, so the saguaro put out new shoots. I remember thinking, "What the hell happened to you?" Was this caused by freezing, disease, or repeated lightning strikes? I don't know, I've never seen a saguaro like this.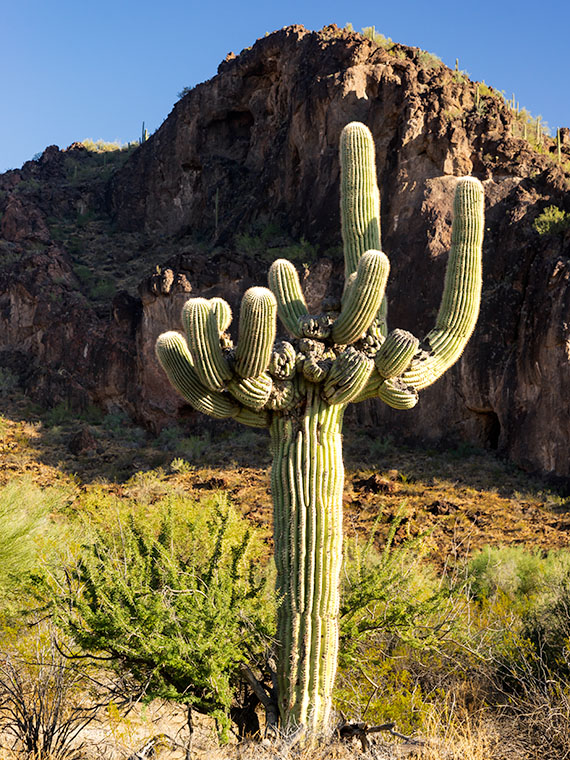 I decided to capture its portrait, and, as I framed it, the hills came in play. I lined up my shot so that the sunlit saguaro was centered on the dark rocks on the outcrop. I was so impressed with how clever I was, I also shot a dead tree and palo verde in the same way, but they didn't come out as well. I titled this shot What Happened to You, and it's this week's featured image.
You can see a larger version of What Happened to You on its Web Page by clicking here. I hope you enjoy viewing it. Join us next week as we finish up our trip around the Harquahala Mountains.
Until next time — jw
BTW: Queen Anne and I wish you and your loved ones Bah Humbug—and similar salutations of the season.